2017 Outdoor Build Contest
With warm weather right around the corner, everyone is ready to get back in to the shop and build something! The theme of this contest is to build something for the outdoors. Have that outdoor table on your list, or need a couple of Adirondack chairs? Nows the perfect time to build them and enter for a chance to win one of these awesome prizes: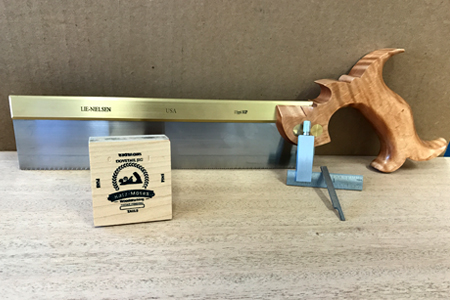 First place: Lie-Nielsen Dovetail Saw
Second place: Lee Valley Small Double Square
Third place: Katz-Moses Dovetail Guide
All winners will also receive a SimpleCove T-shirt in addition to the prizes won.
Notice
This contest is only sponsored by Katz-Moses Woodworking. Lee-Valley Veritas and Lie-Nielsen Toolworks are not affiliated whatsoever with SimpleCove nor this contest and all non-sponsored items have been purchased by SimpleCove. Lee-Valley Veritas, Lie-Nielsen, and Katz-Moses Woodworking have no liability to any entrant or any other person(s) in this contest.
View Contest Rules
Contest Rules
Official Rules
You must document your work here on SimpleCove.com with build photos and descriptions in a project post.
You must be a SimpleCove.com member and at least 18 years of age at the time of the entry.
You can enter as many projects in to the contest as you like, but only one prize per person will be awarded.
Prizes are restricted to participants living in the US and Canada (Quebec Excluded).
The contest begins 12:00 a.m. EST on Monday, April 24, 2017 and entries for the contest must be published no later than 11:59 p.m. EST on Saturday, June 24th, 2017.
How To Enter
To enter for the contest, sign up for an account on http://www.simplecove.com and click the "Share Project" button at the top of the page and fill out the form. You are required to upload build photos with descriptions to document the build. If you have any problems or have any questions, please don't hesitate to contact us.
Guest Judge
Dustin Penner
Winners!
25 Contest Entries